Friday, May 24, 2013
         3-3:30 PM Welcome & Registration (Communication 202 & 204)
         3:30-5 PM Workshops
"Digital Game-Making for Non-Programmers" (CMU 204)
merritt kopas

"Badger Badges Badgee(s)" (CMU 120)
Theresa Horstman and Sean Fullerton

"There Must Be 50 Ways to Play A Video Game: How To Make A Let's Play Of Your Very Own!" (CMU 226)
Solon Scott
Saturday, May 25, 2012
         8-9 AM Welcome & Registration (Communication 202 & 204)
         9-9:45 AM Session Generation
         10-11:30 PM Breakout Sessions I
Room 202: Cheating/Countergaming
Room 226: Analog Games
Room 120: Online Communities
         11:30 AM- 1 PM Lunch Break (Catered)
         1-2:30 PM Breakout Sessions II
Room 202: Math Games
Room 226: Player/NPC Relationships
Room 120: Food in Games/Embodiment
         2:45-4:15 PM Breakout Sessions III
Room 202: Game Environments, Worlds, Cities
Room 226: (State of) AAA/Big Budget Games
Room 120: Games & Learning
         4:30 PM Closing
Location & Directions
THATCamp Epic Play will be hosted at the Simpson Center for the Humanities at the University of Washington in Seattle, WA.  The Simpson Center is located on the second floor of the Communication Building (CMU) in Rooms 202-206.  Workshop and breakout sessions will be held in CMU 202, 204, 226, and 120.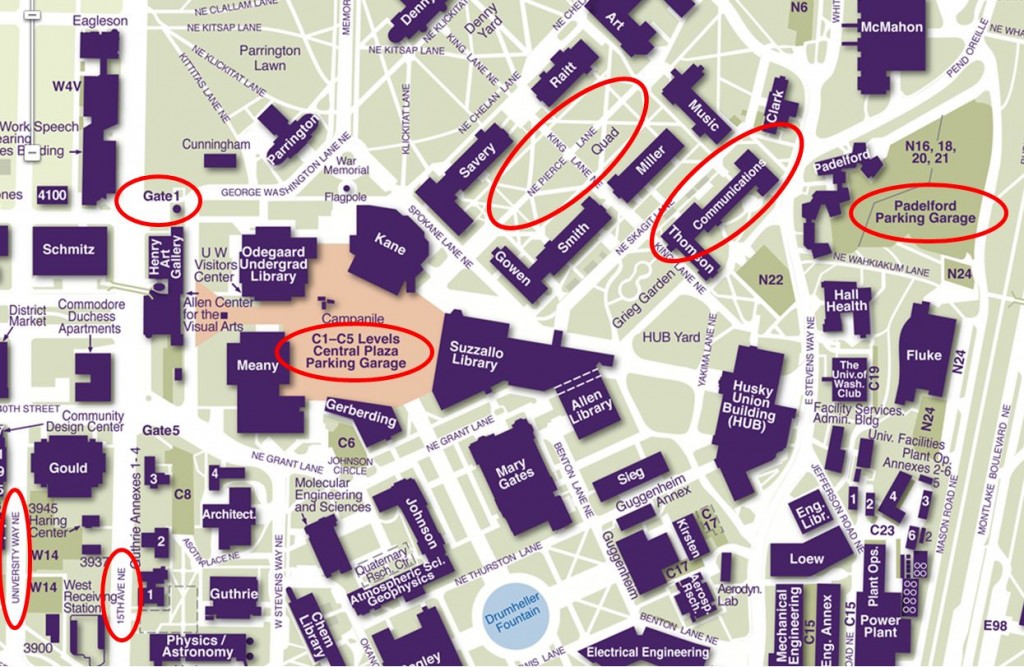 Once you get to campus, there are three entrances. On the North side of campus, the entrance is off of 45th at 17th.  Go through the Gate, turn left on to Stevens Way, follow that around to Communications on the right.  From the Southwestern side of campus, the entrance is at 40th and 15th. 40th becomes Grant once you get on campus.  Take a right off of Grant onto Stevens Way and follow around to Communications on the left.  From the 000000;">East side of campus, turn off of 25th onto Pend Orielle Rd.  Follow that until it ends at Stevens Way, turn left, and Communications is on your right.
Parking
Though we recommend public transportation and/or walking, parking is available in many convenient locations around campus.  The lots closest to the THATCamp are behind Padelford Hall in the Padelford Parking Garage (circled above).  Additional parking is available in the Central Parking Plaza (beneath Red Square), accessed by Gate 1 or Gate 5 off of 15th Avenue.  Please be sure to stop at a Gate on your way into campus and ask for assistance.  Please take care to read all posted signs.  For more information, visit UW Commuter Services and have a look at their Lot Map.  Please note that THATCamp coincides with Memorial Day Weekend and there may be holiday traffic and constraints on parking.
Bus
There are several Metro buses serving the University District.  Lines 65, 68, 75, 205, 272, 277, 372, 67 all have stops right outside Communications.
How do I propose a session?
Once you register for your THATCamp and are approved, you will receive a user account on the THATCamp website. You should receive your login information by email. Before the THATCamp, you should log in to the THATCamp site, respond to the Brainstorming thread or generate your own thread.  Click on Posts –> Add New, then write and publish your session proposal. Your session proposal will appear on the front page of this site, and we'll all be able to read and comment on it beforehand. (If you haven't worked with WordPress before, see codex.wordpress.org/Writing_Posts for help.) The morning of the event, all THATCamp participants will vote on those proposals (and probably come up with several new ones), and then all together will work out how best to put those sessions into a schedule.
Remember that you will be expected to facilitate the sessions you propose, so that if you propose a hacking session, you should have the germ of a project to work on; if you propose a workshop, you should be prepared to teach it; if you propose a discussion of the Digital Public Library of America, you should be prepared to summarize what that is, begin the discussion, keep the discussion going, and end the discussion.
When do I propose a session?
You can propose a session as early as you like, but most people publish their session proposals to the THATCamp site during the week before the THATCamp begins. It's a good idea to check the THATCamp site frequently in the week beforehand (perhaps by subscribing to its RSS feed with an RSS reader such as Google Reader) to see and comment on everyone's session proposals. You can also come up with a last-minute idea and propose it to the THATCamp participants during the scheduling session, which is the first session of the THATCamp.
Why are sessions proposed this way?
Proposing sessions just before a THATCamp and building a schedule during the first session of a THATCamp ensures that sessions are honest and informal, that session topics are current, and that unconference participants will collaborate on a shared task. An unconference, in Tom Scheinfeldt's words, is fun, productive, and collegial, and at THATCamp, therefore, "[W]e're not here to listen and be listened to. We're here to work, to participate actively.[…] We're here to get stuff done." Listen further:
Everyone should feel equally free to participate and everyone should let everyone else feel equally free to participate. You are not students and professors, management and staff here at THATCamp. At most conferences, the game we play is one in which I, the speaker, try desperately to prove to you how smart I am, and you, the audience member, tries desperately in the question and answer period to show how stupid I am by comparison. Not here. At THATCamp we're here to be supportive of one another as we all struggle with the challenges and opportunities of incorporating technology in our work, departments, disciplines, and humanist missions.
See the About page for more information on the philosophy of unconferences.
What do I propose?
Here are the kinds of sessions people generally propose at THATCamp: general discussions, writing sessions, hacking sessions, working sessions, workshops, or "other." See below for examples.
General discussion — Sometimes people just want to get together and talk informally, with no agenda, about something they're all interested in. Nothing wrong with that; it's certainly a much better way of meeting people than addressing them from behind a podium. Propose a session on a topic that interests you, and if other people are interested, they'll show up to talk about it with you.
Hacking session — Several coders gather in a room to work on a particular project. These should usually take more than an hour or even two; if you propose such a session, you might want to ask that one room or swing space be dedicated to it for the entire day.
Writing session— A group of people get together to start writing something. Writing can be collaborative or parallel: everyone can work together (probably in Google Docs) or by themselves (yet with a writing vibe filling the air) to write an article, a manifesto, a book, a blog post, a plan, or what you will.
Working session — You're working on something, and you suspect that some of the various people who come to THATCamp might be able to help you with it. You describe problems you want solved and questions you want answered, and strangers magically show up to hear about what you're doing and to give you their perspective and advice. This is not an hour-long demo; you should come with specific questions or tasks you want to work on with others for most of the session.
Workshop — A traditional workshop session with an instructor who leads students through a short introduction to and hands-on exercise in a particular skill. Any THATCamp with three or more workshops that fit our workshop curriculum curriculum is eligible for the fellowship program, which means that its attendees can apply for a fellowship. (Note: the workshop series was formerly called "BootCamp," a term we have now deprecated.)
Grab bag — Ah, miscellany. One of our favorite categories. Indefinable by definition. It's astonishing how creative people can be when you give them permission; performances and games are welcome.